2019 - 8 years
Shadow is still fast, active and very agile wolfdog. Last year we passed one small exam ZZO 1 (it is Czech national order´s ZVV1 part B) and now we have two new spring exams IFH-V (tracking 600m, 3 articles, 90 minutes, 4 angles) and IBGH 1 - obedience very similar to BH.
We may try to participate at the Club Show in veteran class but it is not as important as the preparation to higher exams in autumn...
Good luck, Shadow!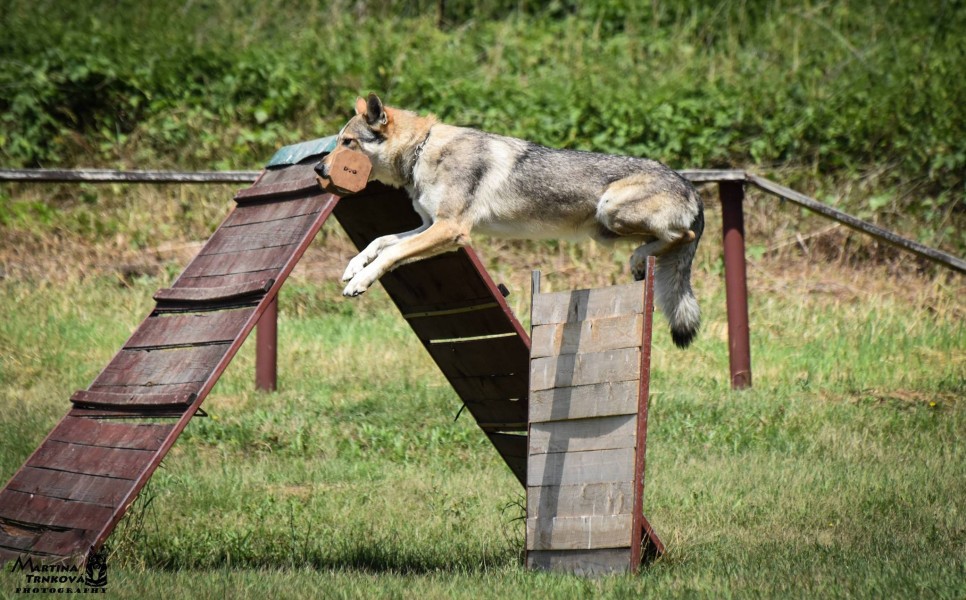 INTERNATIONAL TRACKING EXAM - FH 1!!!
Today 6th July 2018 Shadow passed 1200m long 3hours old stranger´s track in bitter rain, he was amazing! Thank you Sasha the breeder for such great wolfdog. :)
NEW EXAM PASSED: FPr3
Shadow has passed IPO3 tracking (part A)! It was his 18th training exam. Thank you Shadow for happy moments during trainings and exams!
SPECIAL CSW EXHIBITION IN JEDOVNICE 2017: SHADOW GOT EXCELLENT 1, CAC IN WORKING CLASS,
BEST MALE, SPECIAL SHOW WINNER!!!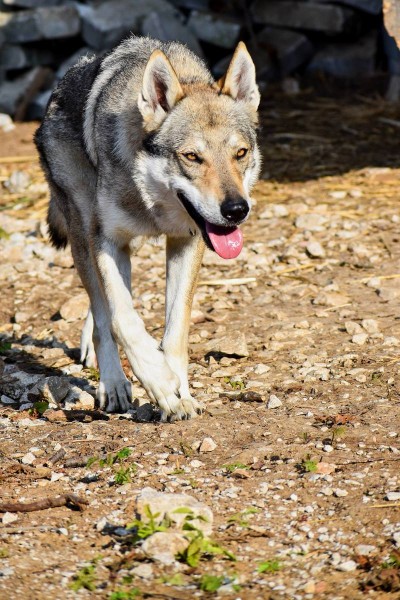 New exam passed -
IPO 2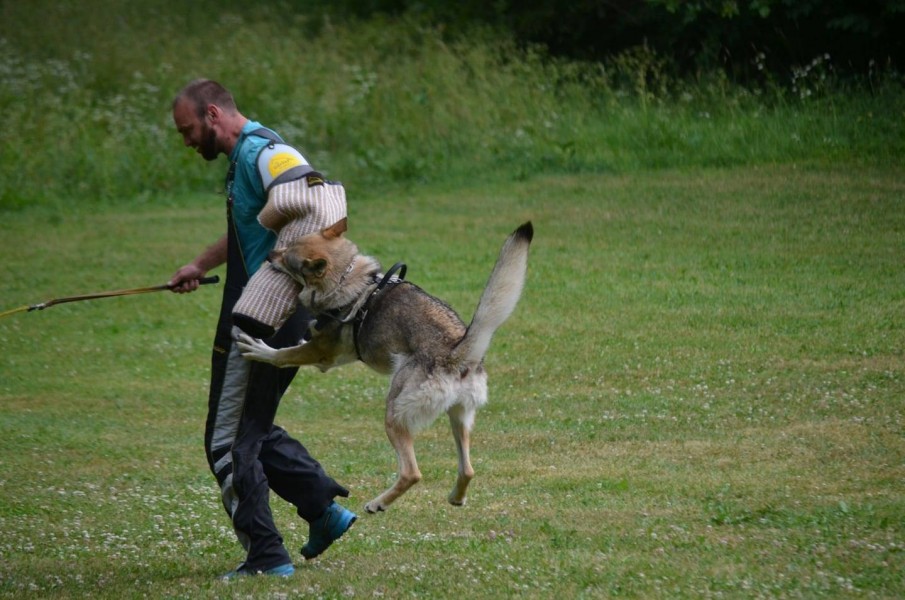 Shadow has passed IPO 2 exam - tracking, obedience and defence - 20.7.2017. Now we are focusing on ZVV2 and IPO 3.
!Puppies are born!
Unique gave us 8 beautiful and healthy puppies!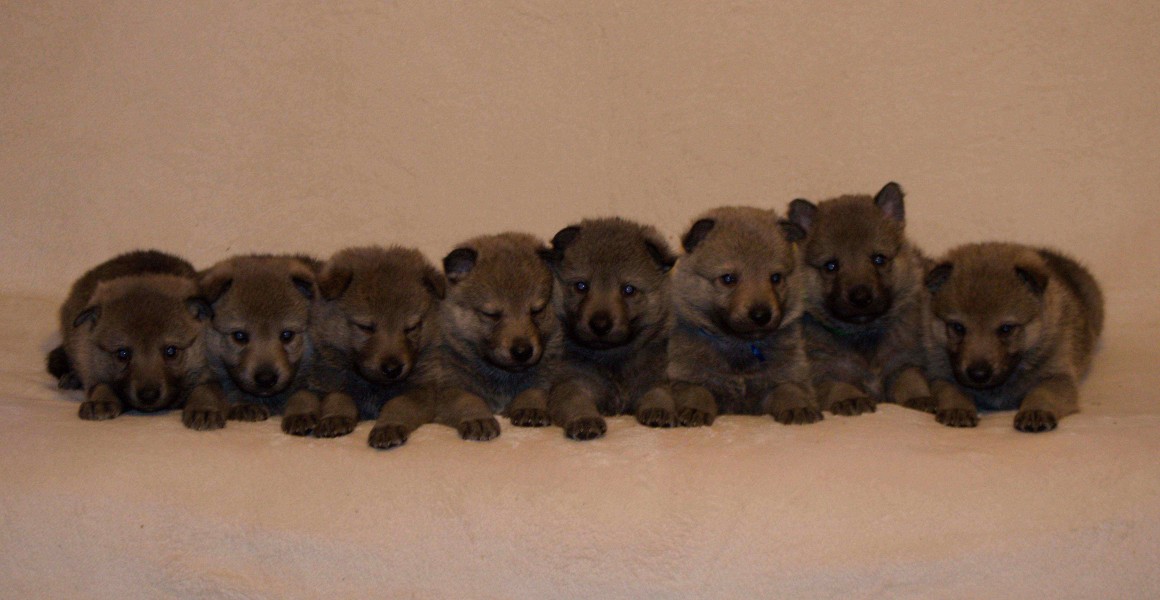 New expected litter!
In early september, Cair mated great female Unique od Uhoste (daughter of beautiful and very kind CORK Stin vlka!!!). We expect working will, very strong eating will :-) - last litter of Uni!!!
Mainly for active people who are interested in positive reinforcement, obedience, tracking and defence training.
More info: http://wolfdog.wbs.cz/Novinky.html
Working Wolfdog Winner 2015!
Shadow took first place in All-year working dog competition of Czechoslovakian wolfdog Club CZ! He passed 5 exams (IPO1, ZPU2, ZPS1, FPr2 and SPr1), some competitions and 4 musher races in cart sled dog categories. We are very happy! It was beautiful year full of training tracking, defence, obedience and mushing.
Thank you Shadow!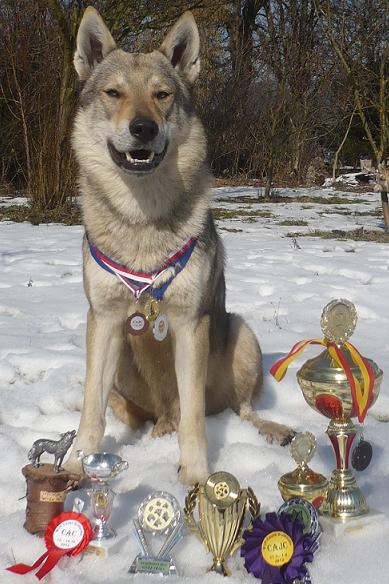 Let me introduce ONE YEAR OLD VIDEO with Cair´s defence training:-)
SHADOW PASSED ZPS1 EXAM!
22nd November Shadow passed specialized tracker´s exam ZPS1, consisting of 500m long track 2 hours old with 4 angles 90" and one 45". It was very cold and the field was very short and Shadow worked hard. The second part of the exam was ZVV1 obedience with aport, barking, obstacles...
Thank you Shadow! It was the 15th exam of sports cynology!
Reingers sled dog race 2015
We participated at cart sled dog race in Reingers, AT. I started with four dogs in MB category (for 6 dogs). Shadow was the strongest helper of our team! Thank you Shadow...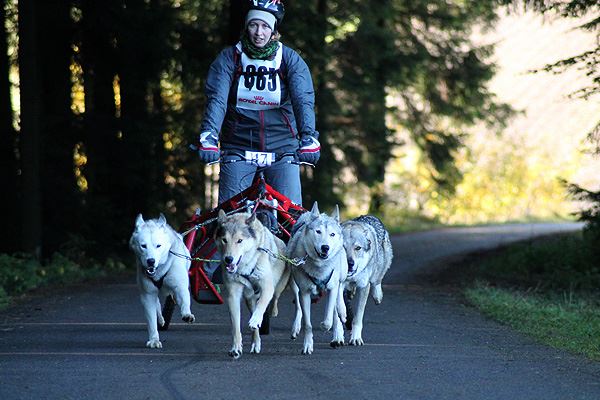 First musher´s race of this year! HROBSKÁ JÍZDA 2015
We started in the cathegory "C" (open class 4-6 dogs with cart) and we were there alone. So 1st place! Thank you Shadow for such a perfect work! Our team needs you! <3
Average speed: 14.5km/h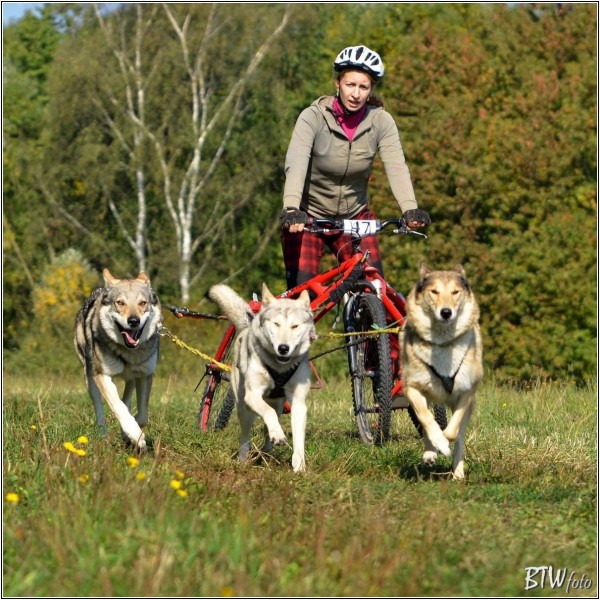 Czechoslovakian Wolfdog Competition according to ZVV1 exam - 2nd place!
Cair "Shadow" had the best tracking (95points) and the best obedience (82b). He had also nice defence but he he heard some children behind the fence and he had to check out if it is our daughter...then he continued in defence...he lost 30pts.
BEA JANTAROWA WATAHA and CAIR POTOMOK VLKOV have 4 puppies!
They were born 28th August 2015 in Poland, kennel http://www.jantarowawataha.pl/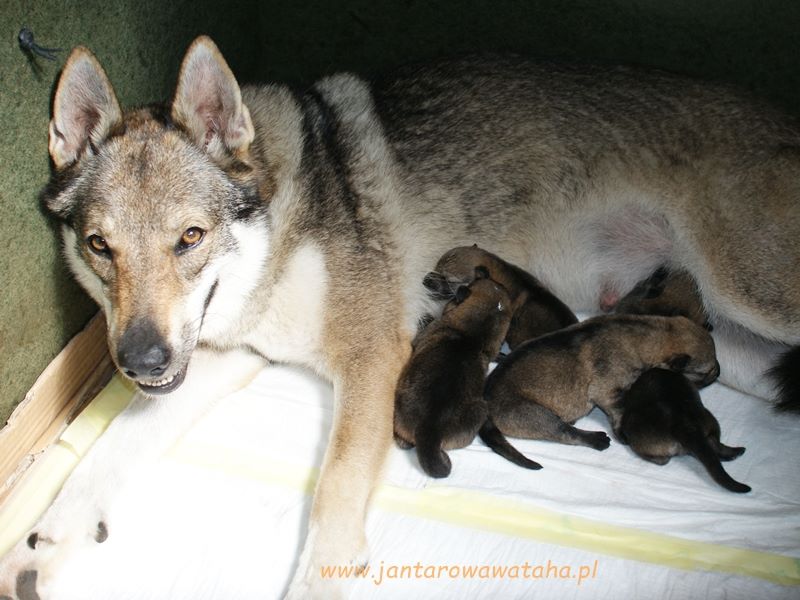 Back from summer training camp with Jaroslav Labik and Bretislav Tujik at HST Bochovice training centre - we are full of new ideas :-)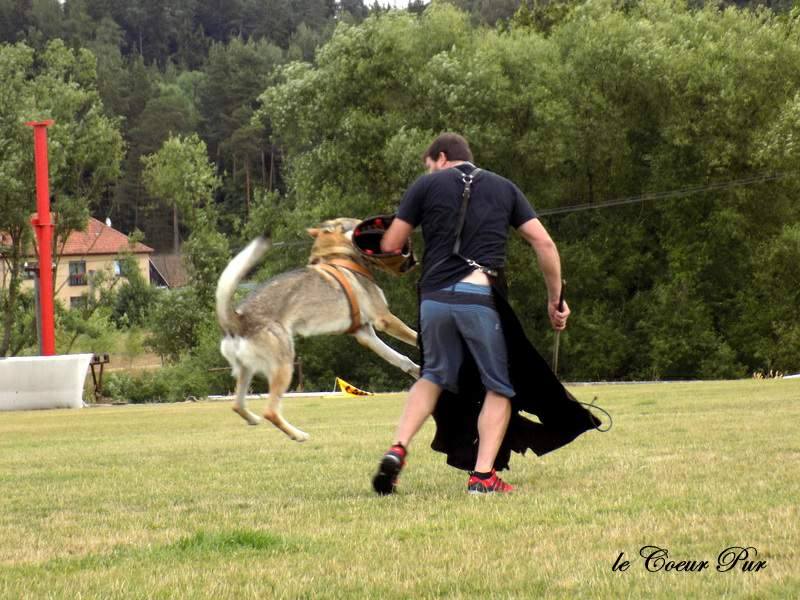 New passed exam - SPr1 (defence part of IPO1) - 3.5.2015
NEW PASSED EXAM - INTERNATIONAL WORKING ORDER:
IPO 1
Shadow had a hard week. On Sat 25th April he passed ZPU2 - 300points Czech exam with stranger´s track, difficult obedience and short defence. After that, he worked every day in harness (cart training) or during obedience training with my friends and next Sunday, he passed IPO 1!!! He seemed to be little bit tired but he had nice tracking and very energic defence. Obedience was lazy, he could work better. We are happy!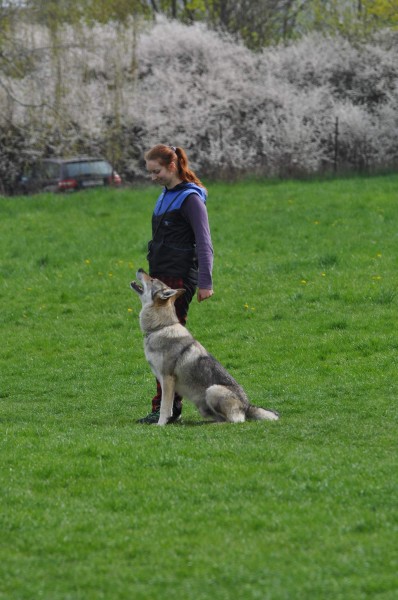 New passed exam: Shadow passed UPr2 (IPO 2 part B) to nice points in Horovice. Full point for sendind forth again :-) Nice stop in standing. Shadow made me happy today! Judge: Benisek St. /CZ/
12.10. 2014 Shadow has passed UPr1 - obedience IPO 1 (part B). Perfect heelwork, perfect obstacle aports, perfect sending forth...with an applause. Judge: Bc. Stanislav Benisek /CZ/Nice work, Shadow! <3
New passed exam: 28.9.2014 Shadow passed FPr1 - tracking - Part A from IPO 1 exam - in VERY HIGH meadow - to 71points in training club Levin, judge: Jiri Cakora (CZ). :-)
MATED! Bea Jantarowa Wataha and Cair "Shadow" Potomok vlkov expect beautiful puppies in October 2014! Light linebreeding to MILO RUSKOV DVOR, very interesting blood.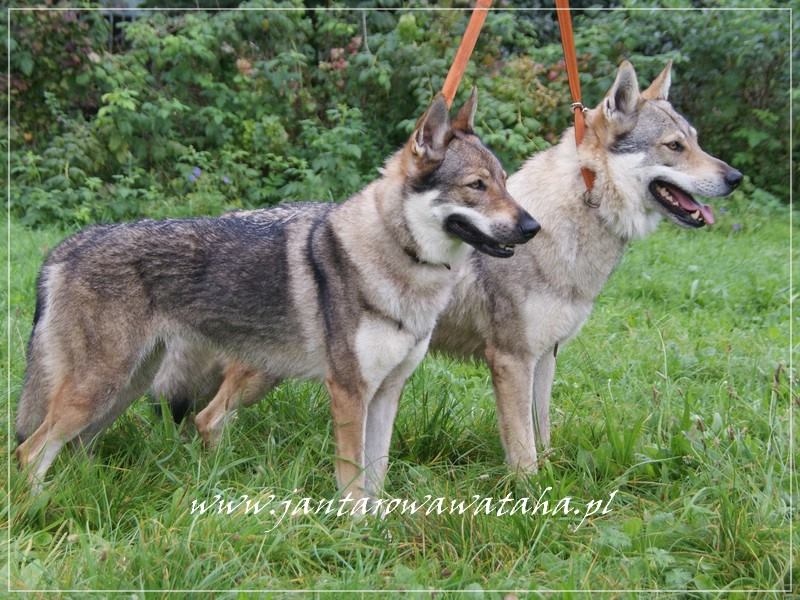 We just added new photos of puppies to the section "Stud male - offspring" !
Young litter B Redog Josefov participated at training camp for wolfdogs in Jevisovice (CZ) and their owners made new pictures. They are all beautiful, so similar to their father Cair!
Litter A vom Uerkenthal (mother Cora von Keschla) is successfully growing in Switzerland, they soon will come to new homes! They have darker and browner coat like Cora but both sons-boys have father Cair´s head, it is great!
Cair (Shadow) participated at two difficult training camps, prepared for IPO1 and met new helpers Petr Veselka and Jan Böhm. He and I have learnt new tricks and we are looking forward to pass new exams in the autumn!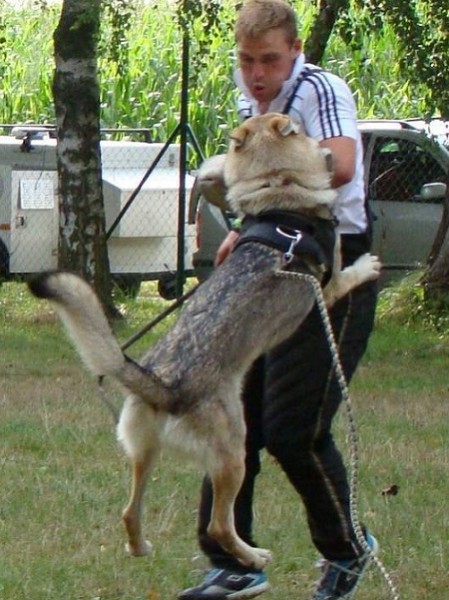 CORA VOM KESCHLA (SWITZERLAND) HAS 4 BEAUTIFUL PUPPIES!!! 3 FEMALES, 1 MALE.
Kennel Wolf von Uekertal, litter A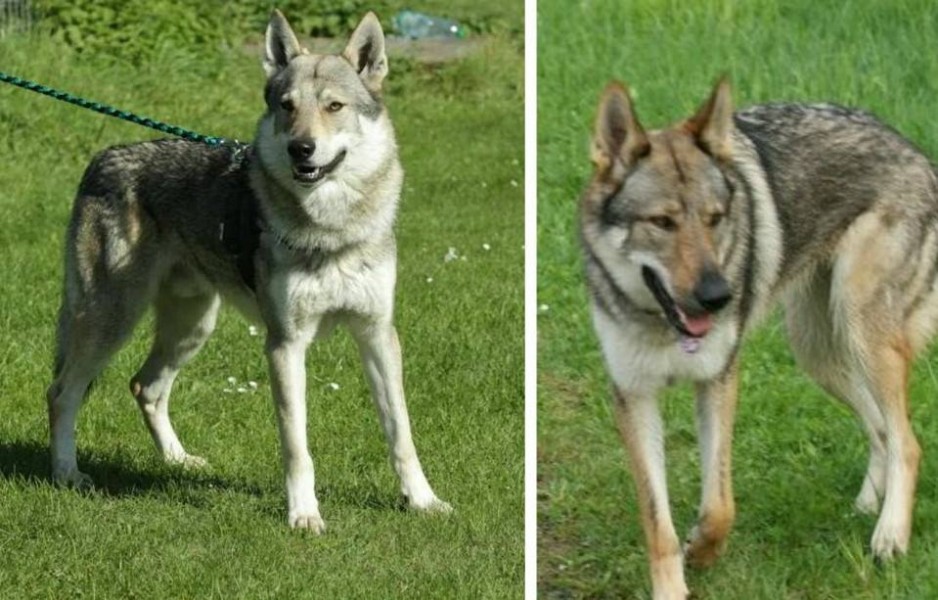 Cora´s father is SIGGI od Uhoste (Hero od Uhoste x Ko Ko z Molu es, daughter of Hasso z Kladenske zare) - two Czech great working males, Cora´s mother is French female Chye-Z´Ddey de la Mollyniere de Lo´scale - Rambo Crying wolf x Cynthia spod Dumbiera.
Cora is nice, perfectly ballanced in character and unbelievably beautiful brown-grey colour. She is controlled like german shepherd.
If interested, you can contact the breeder Nicole Bourgnon, e-mail: danielwulli@yahoo.de
SHADOW PASSED ZVV 1 EXAM!
Judge: Miroslav Rynes; Helper: Jirka Mach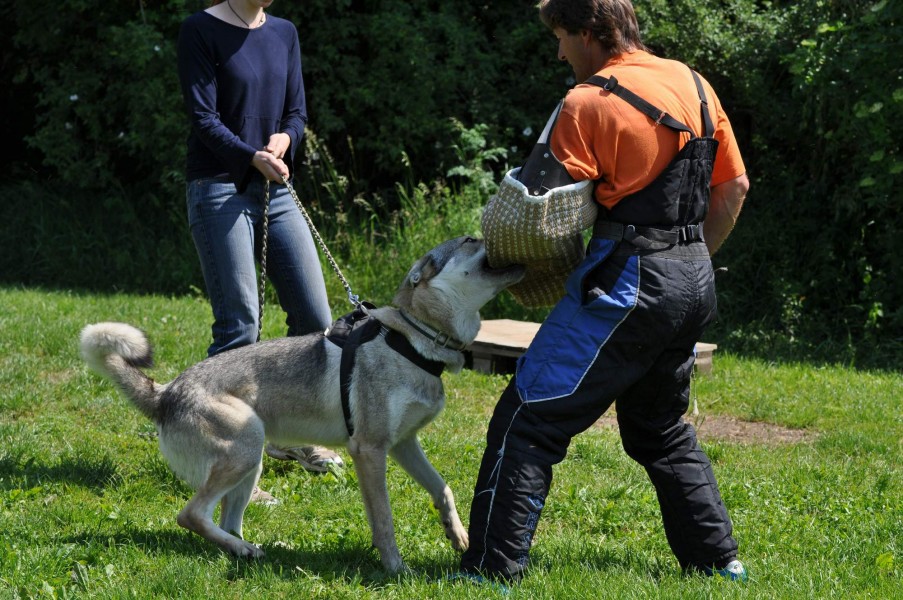 SHADOW PASSED IPO-VO EXAM! Judge: Miroslav Ulc Helper: Jiri Mach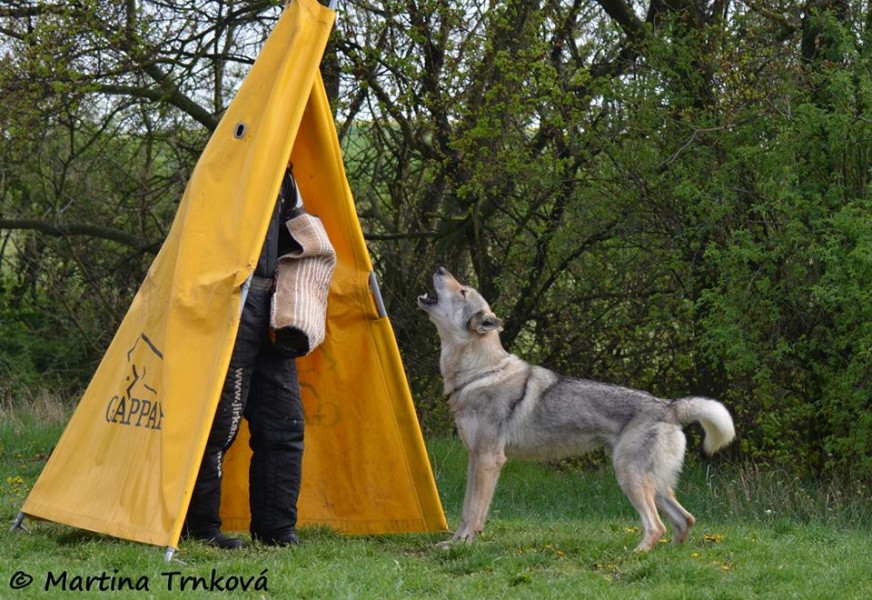 Covered 23.4.2014!
CORA VON KESCHLA (Switzerland) was covered by CAIR. Good luck, Cora, we are looking forward to puppies!
We still train obedience, tracking and defence for examinations.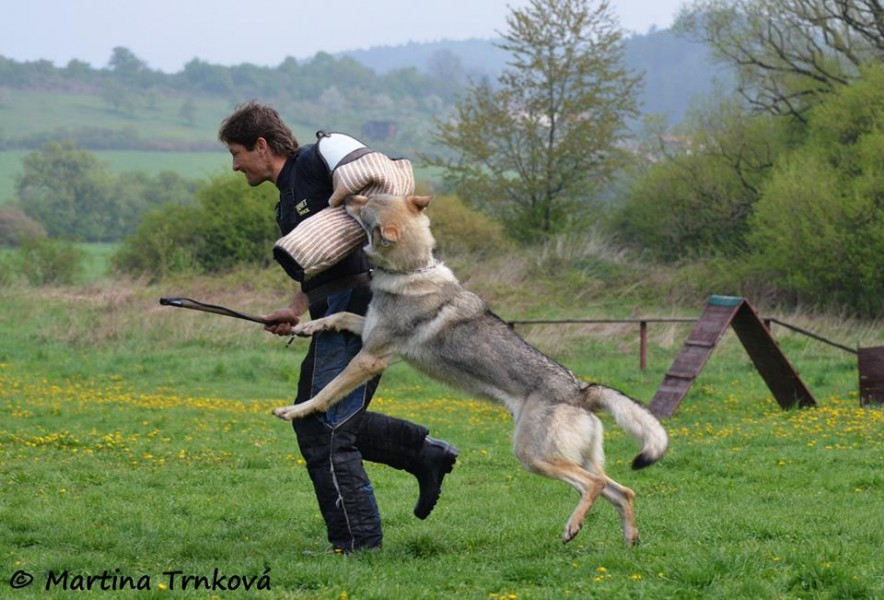 AŠA and SHADOW have 6 beautiful puppies born 4/1/2014!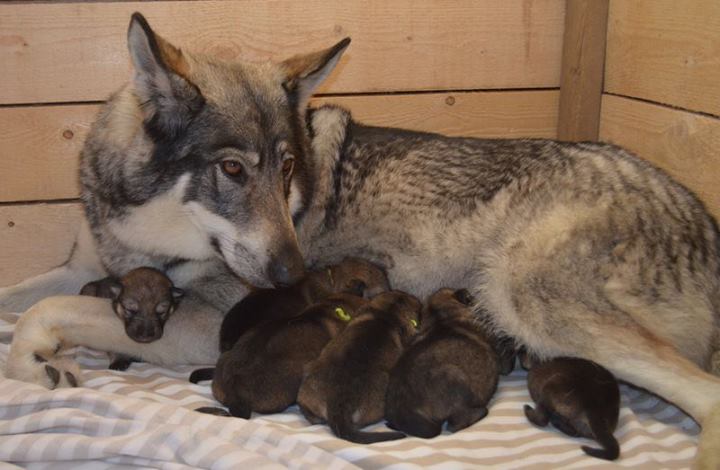 Aša is tall, imposant female with "high" wolfish dark mask and "dry" head, daughter of Amor Gabčov Dvor.
Cair is light-eyed, elegant young dog with completely ballanced character, good coat, small ears.
We expect beautiful long-legged puppies with fine characters and very interesting old czecho-slovakian blood for breeding!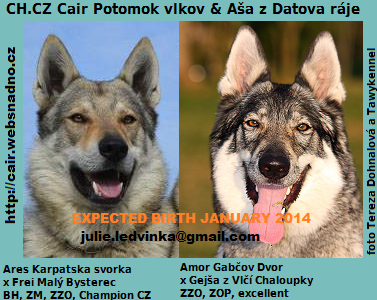 Obedience and defence "double" competition
Shadow passed two competitions (according to ZM exam, like IPO-VO) in one weekend. He tried two new training clubs and he worked very good in unknown area. I am happy for his character!
Shadow absolvoval dva obranářské závody podle ZM během jednoho víkendu. Měl velmi pěkné body na poslušnosti a pěkné zákusy na obraně, body jsme si na obraně zkazili nedocvičeným revírem a vyštěkáním.
Splněny podmínky pro udělení ČESKÉHO ŠAMPIONA!
Shadow získal 5.10.2013 na mezinárodní výstavě psů v Českých Budějovicích V1, CAC, r.CACIB (rozhodčí Jaroslav Matyáš, SK) a splnil tím podmínky k udělení titulu šampiona ČR. K tomuto titulu je potřeba zkouška všestranného výcviku, stačí naše ZM z letošního léta.
New Czech Champion Title!
Shadow got the title Excellent 1, CAC, r.CACIB by Slovakian judge Jaroslav Matyas in the international dog show in Ceske Budejovice. Now he became CZECH CHAMPION OF BEAUTY; this title needs working exam that Shadow passed in the summer camp.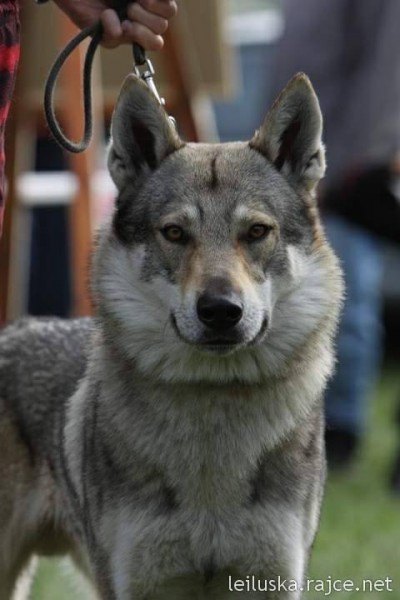 Absolut winner of Belgian club show 2013!
Shadow won Excellent 1, CAC and BOB in Belgian town Sinte Katelijne in 17th August!
The Judge Mrs.Bognarova appreciated his light wolfish eye, wolfish head, small ear, perfectly energic motion, narrow back line, short tail, quality coat with beautiful colours and ballanced character.
We are very happy!
Absolutní vítěz klubové výstavy čsv v Belgii - St.Katelijne!
Shadow nastoupil ve třídě otevřené mezi 5 psy z Německa, Slovenska a Francie, vyhrál svou třídu, nejlepšího psa, titul CAC a navíc ještě BOB! Rozhodčí Soňa Bognárová velmi ocenila typ jeho hlavy, perfektně uložené oko, excelentní prostorný energický pohyb a vyrovnanou povahu. Máme velkou radost!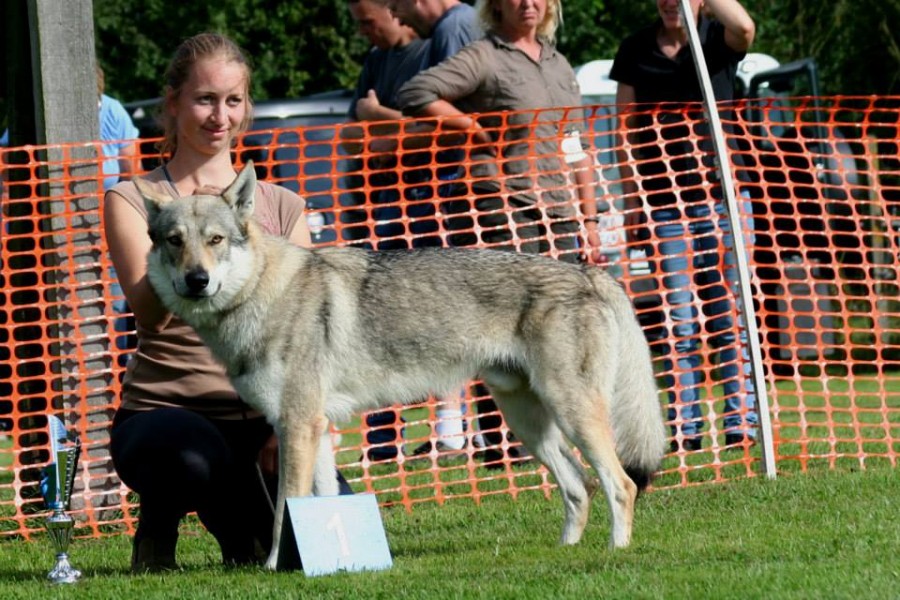 CAIR složil své první zkoušky z výkonu - splnil podmínky pro pracovní certifikát
Shadow během dvou letních týdnů složil tři zkoušky všestranného výcviku!
27.7.2013 splnil ZZO v Městci Králové
7.8. 2013 BH a 8.8. 2013 ZM v Lázních Bělohrad
Zkouška ZM byla parádní - 43/44/38. Nejvíce se předvedl na obraně, kde měl krásné plné zákusy i razanci, ale ztratil body, protože nechtěl pouštět :-)
Na podzim plánujeme IPO-V a ZVV1.
ZKO Náchod - Sport: závod ZVV1
V sobotu 8.6. jsme se zúčastnili závodu poslušnosti podle ZVV1 v Náchodě-Babí, 20km od bydliště Bessy a štěňátek. Štěňata jsme navštívili už v pátek večer a sobotu jsme strávili na cvičišti v tropickém horku a dusnu. Shadow bez tréninku předvedl spolehlivou poslušnost s pěkným štěkáním, aportem, nádherným pružným skokem vysokým. Splnil všechny cviky, ale vzhledem k horku pomaleji než obvykle. Největší radost mi udělal suverénní a sebevědomou obranou na figuranta Pavla Hyláka (pro nás úplně cizí) po celodenní zátěži! Mám z něj velkou radost.

Všechna štěňátka po Shadow & Bessy jsou zadaná :-)
28.6.oslaví 1.měsíc života!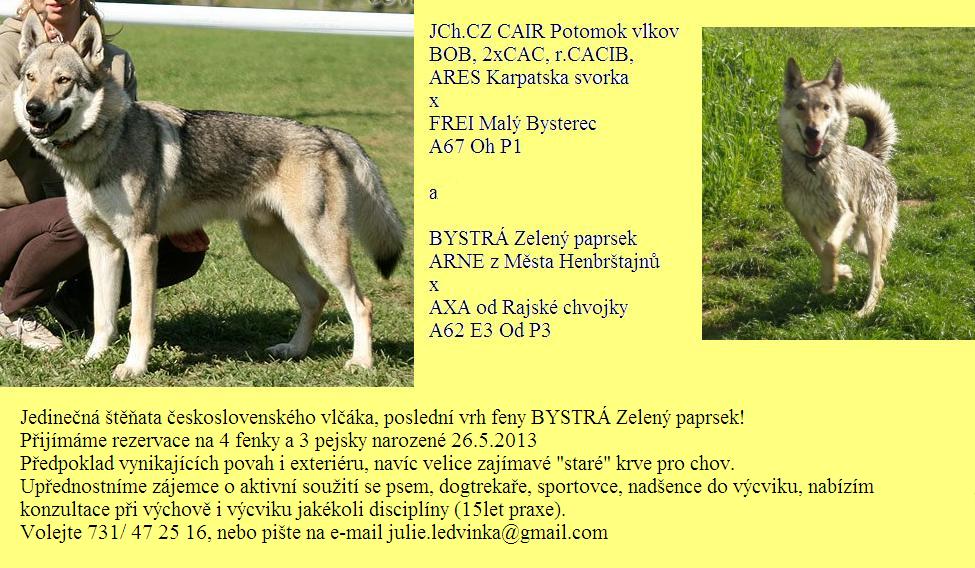 Klubová výstava Litoměřice-třída šampionů-V2 r.CAC!
Bystrá Zelený paprsek je březí!!!
Máme velkou radost! Krytí bylo úspěšné a kolem 28.5. očekáváme vrh Cair Potomok vlkov x Bystrá Zelený paprsek. Máte-li zájem rezervovat si štěňátko posledních vnoučat Arneho z Města Henbrštajnů s předpokladem velmi pěkného exteriéru a po otci i vyrovnané a přátelské povahy, neváhejte nás kontaktovat. Upřednostníme aktivní majitele se zájmem o výcvik či sport s vlčákem, který je všestranným plemenem a jehož odolnost a vytrvalost je v mnohých aktivitách velkou předností.
Krušnohorský dogtrekking 2013
Shadow absolvoval trať dlouhou 98km v plné práci (tahu). Fotografie a výsledky dodám, až budou k dispozici.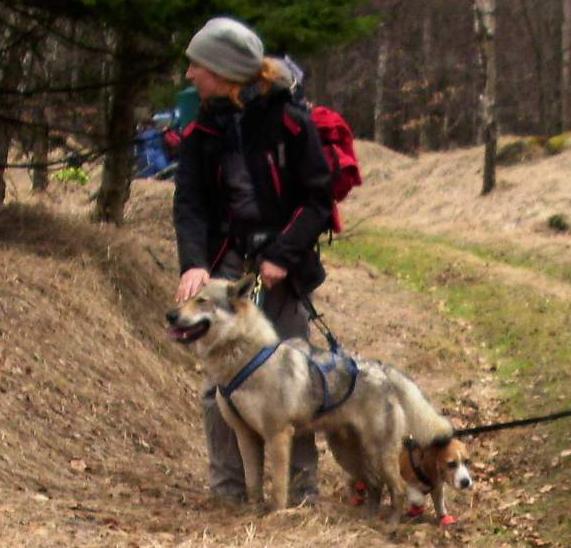 Bystrá Zelený paprsek
Dnes přijela na krytí krásná dcera Arneho z Města Henbrštajnů, Bystrá Zelený paprsek (Bessy). Moc doufám, že návštěva byla plodná, protože je to Bessynčina poslední šance na štěňata, Bessy má velmi zajímavou krev a ve spojení se Shadowsem by mohla být štěňata velice kvalitní.
Do složky INFO byly přidány výsledky testu na dwarfismus.
Tereza Dohnalová nafotila Shadowse při výcviku poslušnosti a obrany:
http://sdivokoukrvi.rajce.idnes.cz/cvicak_Arya-Cair/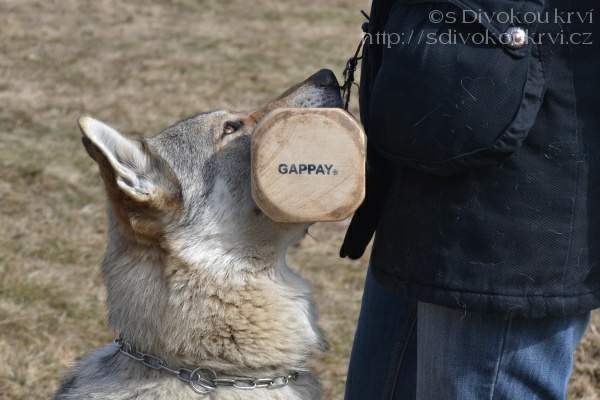 Aktuality březen 2013
V nejbližších dnech očekáváme výsledky testu DNA na dwarfismus s certifikátem.
Chystáme se na:
Krušnohorský dogtrekking 2013, Stopou strejdy Šeráka 2013
zkoušky BH, ZM, IPO-V
letní výcvikový tábor Lázně Bělohrad, výcvikový víkend Nadějkov s Honzou Kubrichtem
Shadow má vlastní album zde:
http://sdivokoukrvi.rajce.idnes.cz/Cair_Shadow_Potomok_vlkov/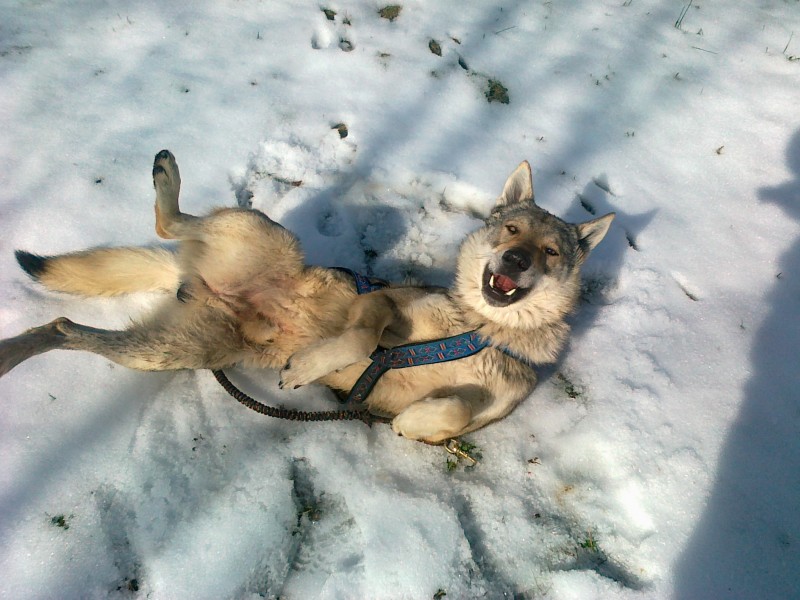 Rok 2012 je za námi...
V uplynulém roce absolvoval Shadow šest velmi úspěšných výstav, dva rovněž úspěšné závody podle zkoušky ZZO s krásným aportem (první závod v 15měsících, čili jako velmi nedospělý), v tréninku ujel přes 400km v zápřahu, vypracoval několik desítek stop, v druhé polovině roku (od 20 měsíců věku) jsme konečně začali systematický výcvik obran. V květnu dokončil dogtrekkingový závod na 102km, v červenci na 50km a v srpnu na 85km.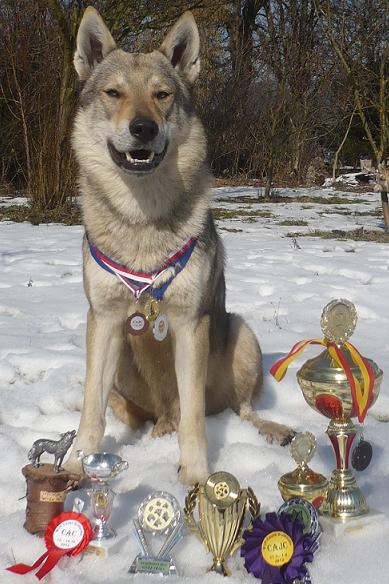 Závod O kapra Karla Hartla 2012
15.12.2012 se konal tradiční závod psovodů s československými vlčáky věnovaný českému zakladateli plemene, Karlu Hartlovi. Vzhledem k velmi nebezpečnému náledí pan Hartl nepřijel, ale nakonec se na cvičiště v Hořovicích sjelo 5 psovodů s vlčáky a dalších 5 s jinými plemeny. Disciplíny vyžadovaly znalost překonávání překážek (skok vysoký, skok šplhem, kladina), důvěru v psovoda (převoz v železném kolečku), orientaci psovoda (nalezení uvázaného psa poslepu) a nakonec i obranné práce (hladké zadržení). Za vlčáky přijeli Andrlovi s Rubym PDL, Treppeschovi s Bountym z Blat.vinic, Maruška Hartmanová s Black Shadow Arqeva, Julie s Cairem Potomok vlkov a nakonec pořadatel Venca Zeisek s desetiletou Peggy z Litavské kotliny. Před závodem jsme si potrénovali zákusy na rukáv s figurantem Ivanem Bindíkem. Děkujeme hořovickým za rodinnou atmosféru a pěknou akci!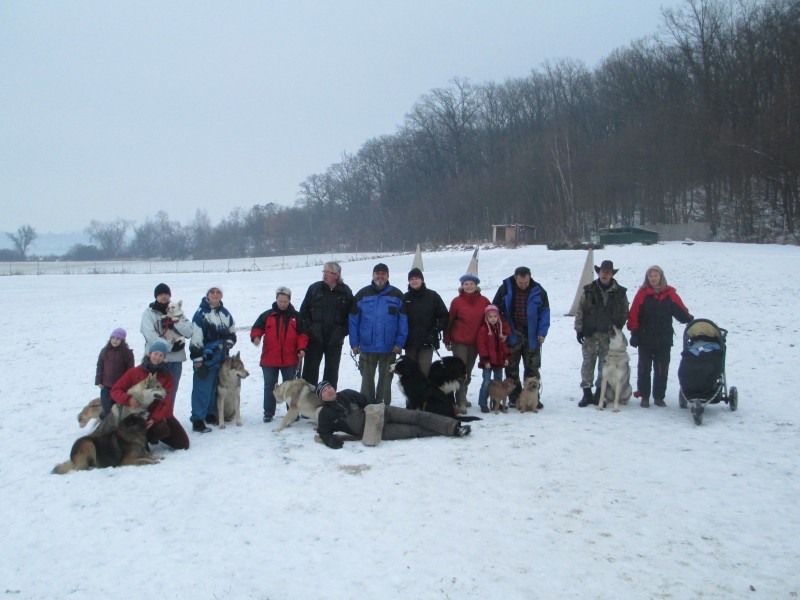 Bramborová medaile na závodech psích spřežení na Točníku 2012
Ve dnech 17.-18.11. 2012 jsme se zúčastnili závodů na Točníku, opět v midové trati.
12km jsme odjeli první den za 50min a druhý den za 47min, o chloupek nám uteklo třetí místo.
Shadow s plným nasazením a naprosto bezproblémový při předjíždění.
Bronzová medaile pro naše spřežení v rakouském Reingers!
Shadow jako wheel dog čtyřčlenného týmu (spolu s Helgou, Beenou a Chuckym) získal třetí místo v závodě psích spřežení (káry) na midové trati (18km) v rakouském Reingers. Bronz je zasloužený, všichni čtyři psi do závodu dali všecko. Shadow je ani ne dvouletý, čili dospívající, navíc už kryl, a přesto nádherně míjel jiná spřežení v protisměru i zvládal předjíždění bez konfliktů, mám z něj velikou radost. On je víc než husky - je dvakrát tak silný! :-)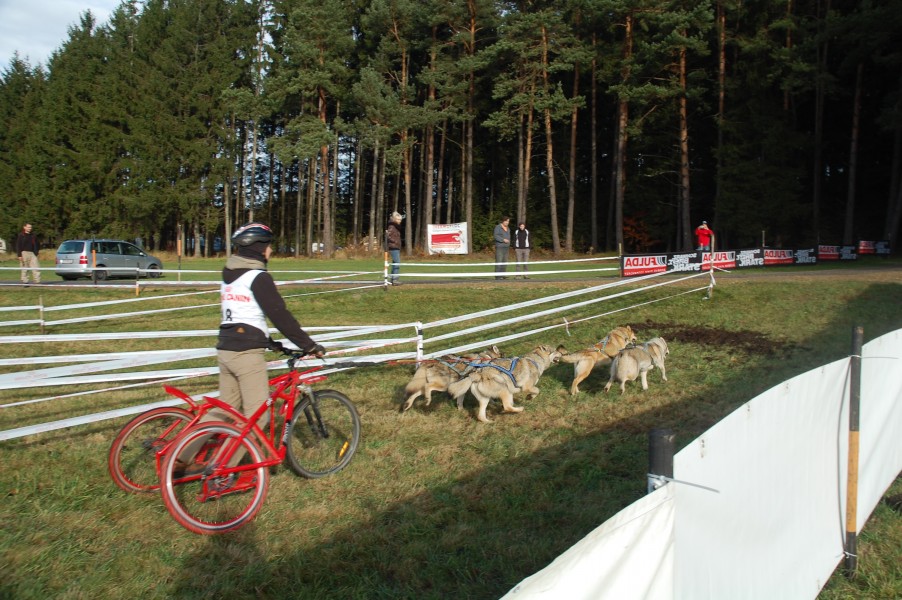 Co je u nás nového...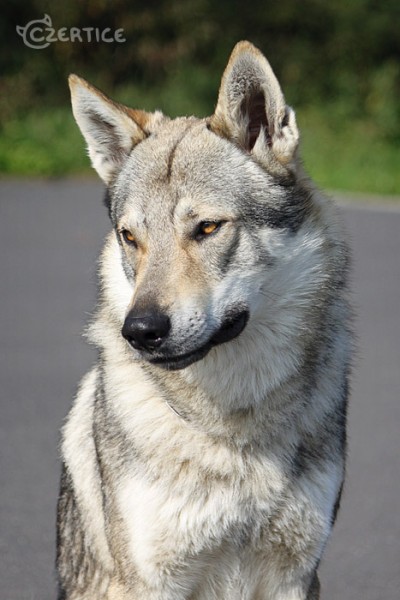 Založeny nové stránky pro Shadowse.
Nový blok - dvojitým kliknutím zde, zahájíte úpravu bloku...